Recreational Therapy Group
As a collaborative effort between the Marriage and Family Therapy Clinic and the School of Kinesiology, Applied Health and Recreation, this group provides additional mental health services for OSU students by utilizing recreational therapy.
---
Group Sessions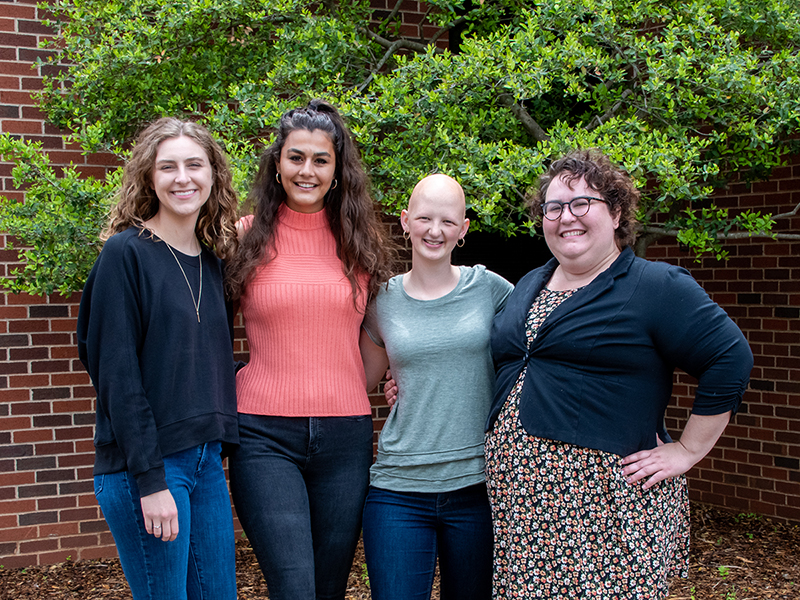 Group sessions are available for all OSU students, including undergraduate and graduate students, and topics include stress, anxiety, relationships, depression and more. Check back for new session dates spring 2022.
If this is your first time joining us, one of our team members will contact you to complete your initial assessment and paperwork prior to attending your first group session. Please note that the first two group sessions are free. Additional group sessions require a $5 per session fee (cash, check or credit card accepted).
What to Expect
After completing the group session registration form, you can expect the following:
A member of our team will contact you to complete initial assessment and paperwork.
You will receive a reminder email the morning of your session.
When you come for your group session, specific COVID protocols will be in place.
The group session will consist of check in, therapeutic recreation activity and discussion.
Our Commitment to You
Our team is committed to:
Providing quality evidence-based, goal oriented therapeutic recreation activities to participating clients
Maintaining confidentiality in all aspects of therapy aligning with HIPPA regulations
Providing a safe, welcoming, and therapeutic environment
COVID Policy
When clients arrive for the group, they should call the front desk at 405-744-5058. A member of our team will conduct a wellness check survey with clients over the phone and note the client's vehicle information to take them a parking pass prior to group.
One of our team members will greet you in NRDW building entry when it is time for the group to start. No clients will be allowed in the waiting room.
All participants and facilitators are required to wear masks for durations of the group and sanitize hands upon entry. Sanitizer will be available throughout session as well.
If you feel sick, have any symptoms of illness or have been around anyone else who is sick, please do not come to the group session.
What is Recreational Therapy?
Recreational therapy, also known as therapeutic recreation, is a systematic process that utilizes recreation and other activity-based interventions to address the assessed needs of individuals with illnesses and/or disabling conditions, as a means to psychological and physical health, recovery and well-being. Further, recreational therapy means a treatment service designed to restore, remediate and rehabilitate a person's level of functioning and independence in life activities to promote health and wellness as well as reduce or eliminate the activity limitations and restrictions to participation in life situations caused by an illness or disabling condition.
Recreational therapy is not all fun and games. There is a purpose behind the activities that are specifically targeted to each patient. When individuals are suffering from a physical injury or mental illness, they need help learning, not only how to live with their disability, but to enhance their quality of life by reducing the isolation that patients experience and helping them to participate in leisure activities.
Recreational therapy improves quality of life and productivity for individuals with disabilities.
Recreational Therapists
Recreational therapists (RTs) seek to reduce depression, stress and anxiety in their clients and help them build confidence and socialize in their community. Individuals who use our services become more informed and active partners in their own health care. Prescribed activity assists individuals in coping with the stress of illness and disability and prepares them for managing their illness and/or disability so they may achieve and maintain optimal levels of independence, productivity, well-being and quality of life.
Benefits of Recreational Therapy
Providing active, outcome focused care which achieves results
Enabling the generalization of skill developed in treatment to their home and community environments
Reducing the effects of primary and secondary disabilities
Providing treatment through cost effective means such as in small and large group settings
Serving as a cost-effective means to enhance or replace other more costly services
Addressing the whole person with the focus on enhancing independent functioning within physical, social, cognitive and emotional domains
Training individuals to identify and utilize community resources that enable independent functioning
Focusing on skills that carry over to everyday life and can make a difference in a person's quality of life
Providing a diversity of interventions which are cost effective, add value and have significant durability across an individual's lifespan.
Our Team