Ray and Linda Booker
---
Ray and Linda Booker's generosity and passion cleared the way for the next chapter in OSU Aviation to take flight. The couple made a $1 million naming gift in 2019, and in March 2020, President Burns Hargis led a ground breaking ceremony for the Ray and Linda Booker OSU Flight Center, which officially opened in 2022.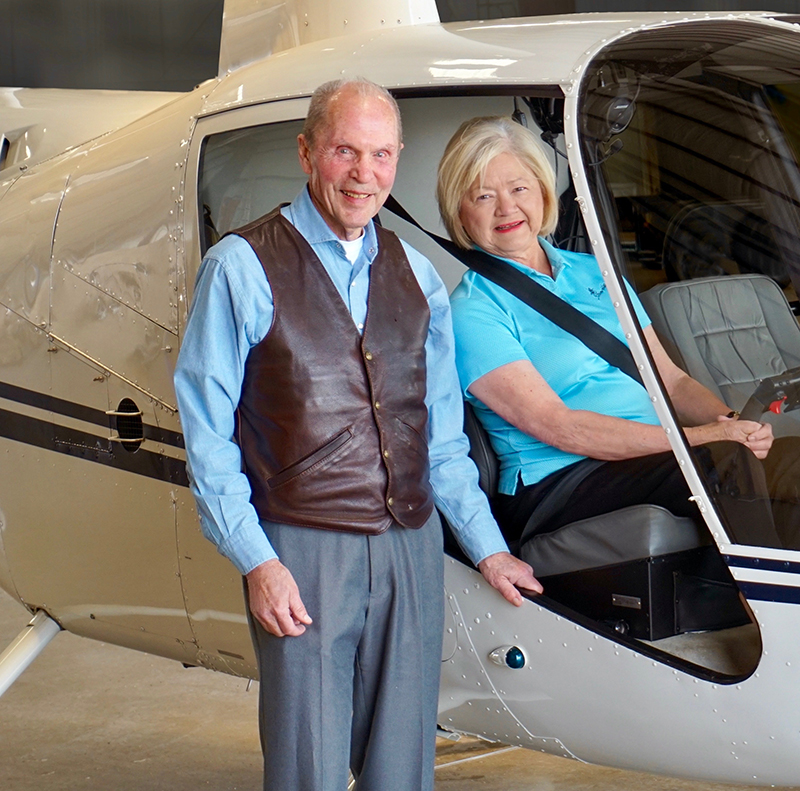 "We owe a huge thank you to Ray and Linda Booker for their commitment and vision for our aviation program," Hargis said. "With this new flight center, Oklahoma State will strengthen its position as the premier destination for aviation education and the home of the best-trained aviators in the country. This facility will have a major impact on the student experience and our work with the aviation industry."
After experiencing firsthand the energy and student excitement found at the flight center, Ray and Linda together made their decision to invest in the project. However, before the paperwork was finalized, Ray suffered a life-ending stroke at 84 after a battle with Parkinson's disease. Linda was determined to follow through with the gift so that his legacy would live on through OSU's aspiring pilots.
In Loving Memory
Ray Booker's passion for flying began at age 9. He was pulling weeds in Antlers, Oklahoma, when a Piper J-3 Cub aircraft flew overhead, mesmerizing him.
Throughout his life, Dr. Booker held many titles — pilot, engineer, meteorologist, entrepreneur, husband and father. Those who knew him described him as a modest family man who never bragged about anything. His wife, Linda, said he was always thinking, always reading and always wearing orange.
After graduating from Antlers High School, he earned a mechanical engineering degree from Oklahoma A&M College, where he was in the Air Force Reserve Officer Training Corps and flew the Piper Super Cub as a pilot training cadet.
He went on to become a second lieutenant in the Air Force, training and studying at Pennsylvania State University, earning master's and doctoral degrees in meteorology. His cloud physics research allowed him to fly on a regular basis, combining his engineering skills with his love of aviation.
Dr. Booker returned to Oklahoma to launch his first business, Weather Science Inc. and later joined KWTV (channel 9) in Oklahoma City as a meteorologist. Other business ventures included Aeromet Inc., Aviation Technologies Inc. and Metrodata Systems Inc. Dr. Booker's business ventures allowed him to build his flight time, add to his flight ratings and advance to flying larger aircraft. At one point, he owned and flew 11 aircraft. Mrs. Booker also holds a private pilot's license.
Through all of his successes, Dr. Booker never forgot where he came from and the role Oklahoma State played in his journey. The Bookers endowed two scholarship funds and a professorship at OSU, and, in 2005, Booker Residence Hall was named in his honor. In 2012, he was inducted into the OSU Hall of Fame.
Dr. Booker was excited to see the new flight center come to fruition and knew the impact it would have on students who share his passion for flying. The couple wanted to ensure the longevity of the program and ultimately increase the number of OSU trained pilots around the world.