Alliance on Aging Teaches L.I.F.E. Lessons
---
First, the bad news. There is no fountain of youth and you're probably going to have to do more than eat an apple a day to keep the good old doctor away.
But, it turns out we're not left completely defenseless against the march of time as there's growing evidence that one of the keys to aging gracefully lies in starting that journey when we're young.
It's called active aging and a group of Oklahoma State University experts is joining researchers around the world raising awareness of the concept.
"Active aging is staying engaged in life in a number of different ways, but primarily keeping your independence as much as possible, remaining fit both physically and mentally, and staying engaged socially in your world, whether it's with your religious organization or with family members," said Emily Roberts, assistant professor in the OSU Department of Design, Housing and Merchandising (DHM).
Roberts heads up the OSU-Alliance on Aging, a group of faculty in the OSU College of Education and Human Sciences who are researching different aspects of aging.
Faculty from several of the college's departments – DHM, Human Development and Family Science and Nutritional Sciences – is represented within the organization, which was formally established in January with help from a one-year seed grant from the college.
Alliance on Aging members plan to learn more about each other's work as well as seek out opportunities to collaborate on future projects.
"We also want to help the state and the people we serve to understand what kinds of resources we have to offer," said Mary Ruppert-Stroescu, assistant professor of apparel design and textile science and OSU Cooperative Extension apparel design and textile specialist.
Among the alliance's first fruits is the Active Aging for L.I.F.E. public health initiative, which is designed to encourage improved outcomes across the lifespans of all Oklahomans in four core areas – longevity, independence, fitness and engagement.
As part of the initiative, this spring, the Alliance on Aging hosted the Active Aging for L.I.F.E. Series, a 4-week speakers' series that drew a mix of older adults 65 and over as well as young people ranging in age from 18 to 25.
"Aging is not a thing that happens down the road. The things we do today will impact how we are 10 years from now and two or three decades from now. That kind of awareness is what we're trying to focus on, particularly with students," Roberts said.
Although most people recognize the truth behind the old saying that life isn't a dress rehearsal, the sentiment can become easily lost in the blur of daily living, and that's what makes the alliance and other deliberate efforts to keep the idea top of mind so valuable.
"There's always that question that you can ask people what active aging is, but no one really thinks about it on a daily basis," said Devin Davis, a junior nutrition major at OSU, who attended all four sessions of the speakers' series. "Before this speakers' series, I thought I had a good idea, but the more you go to these sessions, the more you realize you don't know as much as you thought you did."
The session on longevity made the deepest impression on Davis, but she said each presentation has sparked her to make little changes, such as trying to incorporate more exercise and becoming more involved in clubs to which she holds membership.
Meanwhile, a trio of older adults – Helen Roby, Carol Duckwall and Sue Wilkey – who sat in on each session said they weren't sure what to expect when they agreed to attend.
"For me, all the things they talked about are things I already knew to do, it's just I haven't done them. It's reminding us," Roby said.
Duckwall agreed. "It's pulled together many things we've studied on our own and read about, like exercise, eating right and keeping your mind busy."
"This is another nice thing. We met each other," Wilkey added, noting that she and Duckwall know each other from the fitness center, but had met Roby through the speakers' series. "I think being involved with people, it does lift your day."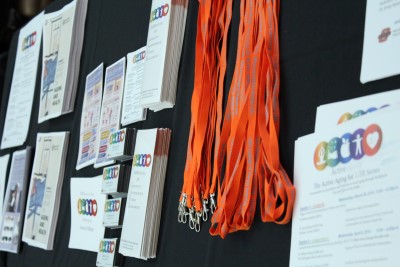 Data from the World Health Organization indicates that while healthy aging begins at birth with our genetic inheritance, only about 25 percent of the diversity in longevity can be explained by genetic factors.
The rest is tied to social, personal and physical environmental factors such as sex, ethnicity, occupation, home and community, level of education and socioeconomic status.
It's in this context that the relatively new concept of active aging is gaining traction worldwide.
"We're increasing our longevity, the amount of years we live, but for me, I want to live long, but I want to be healthy," Ruppert-Stroescu said. "I would like my children, students and all young people to realize this is important much earlier."
In seconding her colleague's comments, Roberts noted the number of people 65 and older, as well as those 80 and older, is going to almost double by 2030.
"The students now are going to be in a society where they're going to need to understand the implications of people living longer and what that means socially, in terms of policy, medical issues, all those things," she said. "This really comes down to quality of life at all stages."
Looking ahead, the alliance recorded each of the sessions in its speakers' series and, in addition to posting links to its website, the group also will share the resource with Extension educators to use as the basis for workshops.
Longer term, the Alliance on Aging hopes to eventually expand its reach statewide with the help of additional grant funding.
"I think one of the main things is education, knowing what your options are and knowing what you can and can't do alone," said Ruppert-Stroescu.