Recreational Therapy Accreditation
---
Committee on Accreditation of Recreational Therapy Education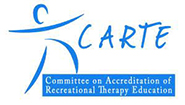 The recreational therapy program is accredited by the Committee on Accreditation of Recreational Therapy Education (CARTE).
Program Mission
The mission of the recreational therapy program at Oklahoma State University is closely fixed to the mission of the university and the proud heritage of serving the state of Oklahoma as the premier land grant university. Our mission is to impact the provision of healthcare in the state of Oklahoma, the nation and the world through integrated, high-quality, teaching, research and outreach in recreational therapy. The program will achieve this through developing graduates who are informed recreational therapists aware of the most current procedures and interventions available to recreational therapists.
The recreational therapy program prepares students as recreational therapists, which are allied health professionals who provide treatment/therapy for individuals in hospitals, physical rehabilitation facilities, psychiatric treatment facilities, skilled nursing facilities, public schools, long-term care facilities and private practices. Recreational therapists provide treatment/therapy that aids individuals in restoring, enhancing and/or eliminating illness and disease.
Recreational Therapy
The recreational therapy program at OSU is the only such degree program in Oklahoma and is currently accredited by the Committee on Accreditation of Recreational Therapy Education (CARTE), which receives authority to make accreditation recommendations to the Commission on Accreditation of Allied Health Education Programs (CAAHEP). CAAHEP is accredited by the Council on Higher Education Accreditation (CHEA).
Accreditation assures the graduating student of eligibility to meet the requirements to take the national certification examination administered by the National Council on Therapeutic Recreation Certification (NCTRC), upon successful completion of the NCTRC certification examination the student would earn the national credential of Certified Therapeutic Recreation Specialist (CTRS). Students wishing to work in Oklahoma upon successful completion of the NCTRC examination will be eligible to apply for therapeutic recreation licensure in the state of Oklahoma through the Committee on Therapeutic Recreation Licensure by the Oklahoma Board of Medical Licensure and Supervision.
Program Goals
Goal 1: To prepare competent entry-level recreational therapists in the cognitive, psychomotor and affective domains.
Objective 1A: Students completing junior and senior internships will receive "meets expectations" scores on each area (Individual Patient Assessment: behavioral, developmental, psychomotor and psychosocial assessments; Plans Treatment Interventions; Implementation of Treatment; Evaluates Patient Progress; and Develops Discharge Plan) of the final evaluation addressing the domains identified in Goal 1, rated by the internship site supervisor on the internship final evaluation for each area identified on internship evaluation submitted by each site supervisor.
Objective 2B: 85 percent of students will rate themselves as "average perceived competence" on question IP/CA3 of CARTE Competency Self Evaluation survey which asks student of their knowledge related to specific medical, psychiatric or other disabling condition.
Objective 1C: 85 percent of students will rate themselves as "average perceived competence: on Self Evaluation of CARTE Competency survey IP/CA4 Knowledge of evidence of problems and limitations for specific ...(medical conditions)...
Goal 2: To develop foundational knowledge of current and future professional (recreational therapy students) within the profession of recreational therapy.
Objective 2A: 85 percent of students will rate themselves on the Self Evaluations of the Foundations of Professional Practice of CARTE Competency survey in each area identified.
Goal 3: Program faculty will make internship site visitations for 90 percent of the junior and senior interns to ensure that during treatment sessions students are applying placing into practice interventions taught during class instruction.
Objective 2B: At the end of each academic semester the site visitation percentages will be calculated and recorded for reporting to CARTE/CAAHEP in the OSU Annual Report.
Methods to Assure Continued Appropriateness of Program Goals
To assure continued appropriateness of the program's goals the program regularly review university student performance on NCTRC examination summaries, regularly reviews clinical internship supervisor summaries of intern preparedness for junior and senior internships, and hosts State CTRS/L meetings at annual state recreational therapy conferences. The program utilities the practice NCTRC examinations which is administered annually during the spring semester in the course titled Advance Methods in Therapeutic Recreation.
To assist with ensuring competent entry-level recreational therapist in the cognitive, psychomotor and affective domains, and to ensure future professionals are familiar with the foundational knowledge of current and future profession practice, the faculty of the recreational therapy program at Oklahoma State University ensures the instruction of these domains and information, in all of the recreational therapy courses and tests the students' minimum competency in the recreational therapy courses requiring a minimum passing grade of "C" which is a the minimum 73 percent level for the program.
The goals and objectives of the recreational therapy program are used during the annual evaluation of the effectiveness of the program when evaluating course content and student minimum competencies. This is completed during annual recreational therapy faculty meetings.
The recreational therapy program at Oklahoma State University is the only recreational therapy program in the State of Oklahoma. The State of Oklahoma Health Care Workforce Center reports that Oklahoma State University should graduate a minimum of 19 individuals ready for work in recreational therapy to meet the needs of healthcare facilities within the state annually. The recreational therapy program at Oklahoma State University is a primary source of recreational therapists for the surrounding states
Reports