National Conference for Hidden Student Populations
The National Conference for Hidden Student Populations (NCHP) is an initiative of the R is for Thursday Collective. NCHP is a collaborative effort led by Fellows of five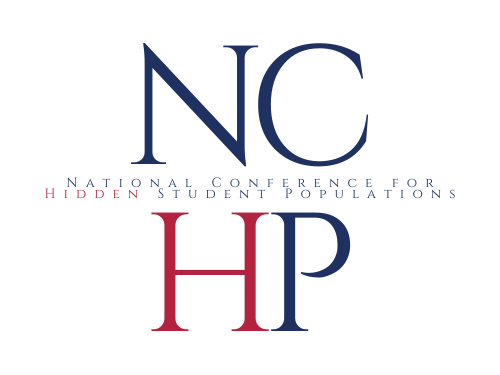 institutions in the U.S. to uncover the individual strengths and institutional barriers for hidden college student populations. This national conference was the first research conference dedicated to this multidisciplinary area of study. The NCHP holds an in-person conference in February of even years and other online events.
---
Current hidden college populations on which we focus
:
Have histories in foster or other out-of-home care at age 13 or older

Are survivors of sexual violence and/or sex trafficking, or have sexual violence as part of their origin story

Are/have been sex workers

Are/have been involved with the justice system (self or caregivers)
Are recovering from substance addiction
Do not have the resources to meet basic need of shelter
Are Third Culture Individuals who are US born citizens and spent a significant portion of their adolescent years in another country
Sought/seeking abortion care in a state where deemed illegal
2024 Hybrid Conference
The National Conference for Hidden Student Populations (NCHP) will be held from February 28 - March 1, 2024 at The University of Texas—San Antonio.
In-person conference from Feb 28 - March 1, 2023; it will include
Research teams work
Virtual presentations
Networking event
Virtual presentations on the afternoon of Feb 29 and the morning of March 1
Call for Proposals
Team Members

Become a new multidisciplinary research team member.

December 1, 2023, Deadline (notifications by December 15)
Submit here your proposal to become a team member.

Note: If you completed an RFP for Research Team Lead, you do not need to also complete the Research Team Member information.

Presenters: Traditional Research

Present an original empirical work.

January 12, 2024, Deadline (notifications by January 31)
Submit here your proposal for a traditional research presentation.
Learn more about past conferences.
Our Mission
NCHP creates a translational research space to identify and address critical issues impacting students with foster care experiences and other social journeys that often lead to being hidden in the system of higher education.
The NCHP creates a networking space, provides opportunities for presentations about emerging research and practices, and seats research teams to conduct research for 18-24 months following each conference.
In our Conference space, we value:
Diversity of perspectives represented by different voices, approaches, disciplines and experiences​.
Multidisciplinary collaboration that creates new knowledge, relationships and teamwork.
Innovative approaches in the translation of research to practice​.
Experiential knowledge through honoring those with lived experience.
Commitment to just policies and practices for college students.
NCHP Fellows
A small group of colleagues served as the guiding committee for the 2020 inaugural conference. United through their emerging expertise and commitment to better understanding the diverse lived experiences of students on college campuses, dedication to inclusivity, and commitment to establishing multidisciplinary collaborative space, these individuals were honored with the distinction and title of NCHP Fellow. The Fellows group were contributors to the Conference's initial success, are current champions of its work, and are committed to providing a foundation of support for its future.
Learn more about NCHP Fellows and research teams